Monstroid2 : The Innovative WordPress Theme for Business – Detailed Review
By good luck, one does not need to become a professional web designer or learn a couple of coding languages to run a website. Fortunately, the web design industry has made a big step forward and presented us a massive amount of pre-made WordPress templates. Thus, the only important thing that matters when creating a website is choosing a great template. In fact, this is the hard part.
We are happy to let you know that WordPress offers a massive pool of cutting-edge themes and Monstroid2 is a part of them. Compared to the first Monstroid WordPress theme, Monstroid2 offers more power and flexibility all at once. Needless to say, the team behind did a good job to come up with such a modern and solid WordPress theme. Let's take a closer look at its benefits.

The first fact worth your attention is that Monstroid2 is a GPL-licensed theme. It gives you right to apply the theme to multiple projects and change its source code without troubles. With other words, once paying for the Monstroid2 you can install it on the endless number of sites. Without any other agreements, you get a complete control over the theme and right to use it the way you need. By the way, the theme owners' admitted that Monstroid2 comes with a set of premium plugins needed to build a project of literally any size, topic and level of complexity. Compliance with the latest WordPress coding standards ensures readable code which is easy to edit.
Cherry Framework 5
Built on the latest version of Cherry Framework 5, Monstroid2 helps you to enhance the functionality of the website. A user-friendly admin dashboard ensures an intuitive and easy installation process as well as endlessly alter options.
---
Easy Installation
The installation process itself will take you a couple of minutes. Once you installed Monstroid2, make sure a recommended TM Wizard plugin is installed, too. After launching the installation wizard follow all the setting steps necessary and choose a skin you want to use for your website. Important is to decide which one of two versions, lite or full you need to install.
---
WordPress Live Customizer
A full support of WordPress Live Customizer tool included in the theme, allows you modify the website in a live mode. Thus, you have freedom to make any changes in the theme's elements starting from the color scheme to navigation and widgets. Besides, there is no need to refresh the page for each new change.
---
Power Page Builder
Power Page Builder included in the theme makes it easy to build a complex layout in a drag-and-drop mode. This extensive tool suits both for newbies and experienced users. Among 25+ adaptive content modules, choose the preferable one to fill your website with the proper look. Choose any of them and design a website that keeps people coming back.
---
10 Pre-built Skins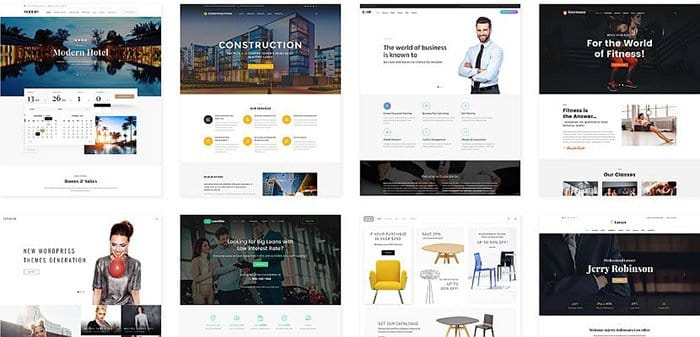 Monstroid2 comes with a set of 10 ready-made skins for most popular business niches. It's up to you to choose one, add the content and edit it to match your business goal. Find there a ready-made theme for a corporate page, financial advisor, fashion blog, furniture store, construction company, lawyers, fitness club or hotels.
---
20+ WordPress Plugins
Featured with a number of WordPress plugins, the theme appears both convenient and multifunctional. Monstroid2 contains several powerful MotoPress and Cherry plugins which are free to use outside the theme. In addition, Mostroid2 is compatible with all popular WordPress plugins, such as bbPress, BuddyPress, etc. Sets of pre-designed templates to send messages, order confirmation, and payment details are also included in the package.
---
WooCommerce Integration
The theme is a WooCommerce compatible and supports the other eCommerce plugins. TM WooCommerce package, TM Wishlist, TM Ajax Products Filter are the most popular ones. Enlarge the performance of your website and build a marvelous online shop in no time.
---
Regular Updated and Lifetime Support
Monstroid2 is a long-term supported product. It means as soon as new updates are released you will get access to new features and skins without any other payment. A professional team is ready to assist you 24/7.
---
Additional Advantage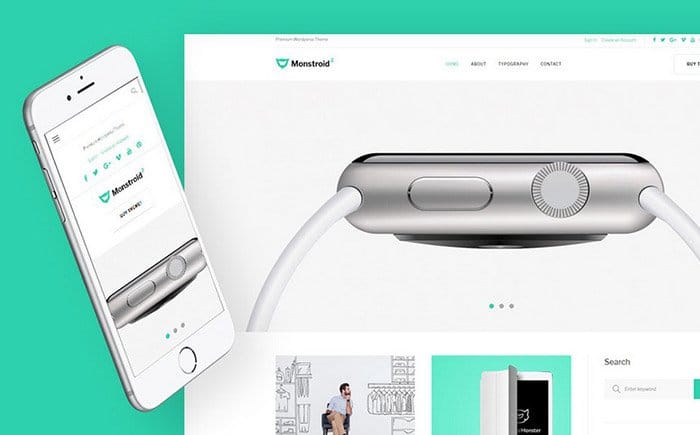 In addition, Monstroid2 comes with a fully responsive layout, which looks and works perfect, on any modern digital device. It runs on alpha 2 version of Bootstrap 4, which helps rearrange each element of the site and ensures a smooth performance. Monstroid2 offers a seamless indexation by all popular search engines, 500+ Google Fonts, custom page types, different header and footer styles and more. Don't waste your time and check out a live demo for more useful features included.
---
Conclusion
In conclusion, we'd like to highlight that today is a time putting your hands on Monstroid2 and let the world know about your notable business. No fear, no coding skills are necessary to start your website up and running. Crafted with care the theme ensures fulfilling of several functions to match all essential needs of every business niche. In a word, Monstroid2 designed the way to cover your expectations and impress the potential customers. Give Monstroid2 a try today, let your freak flag fly and build an eye-catching website with everything you need.
Pricing :
Monstroid2 Multipurpose WordPress Theme – $75