10 Attractive WP Themes To Showcase iOS & Android App
With the incessantly increasing popularity of smartphones, especially iOS and Android powered mobiles, both iOS and Android mobile application development has gained a great momentum.
There are several mobile development companies that offer result-driven app development services at affordable prices. In fact, you can get a customized iPhone application by investing in some custom iPhone app development service. While application development makes a lucrative profession for many who possess coding skills, people can also make a good living by becoming a professional application marketer.
For the folks who are either app developers or app marketers, they need a web platform to efficiently promote the mobile applications. No doubt, WordPress makes a valuable choice for easily developing a desired website and customizing it to support any niche business with a flair. Moreover, there are truckloads of WordPress themes available out there that help one to create a ravishing WP site to promote iOS applications as well as Android applications.
You can overhaul the look and feel of your website and make it apt to advertise applications and proficiently impress potential viewers to consider the showcased apps. To help you generate a dedicated visual appearance on your site, I have compiled a roundup of 10 worthy WordPress themes, specifically designed to support mobile applications, in this post.
Let's uncover them.
10 Best WordPress Themes to Showcase iOS & Android App
xLander is a powerful theme boasting a modern and elegant design that is simply perfect to support any portfolio, app showcase, or business website. Optimized for mobiles, this responsive theme is developed on the Bootstrap platform and has a flexible layout. It is quite easy to get started with this theme and style your site in a requisite way. The theme has a retina-ready display and offers a variety of quality icons and CSS3 animations to choose from. You can easily modify the color combination, fonts, content layout, background, or create a custom skin. Moreover, the theme is built by taking the SEO into account.
---
Sublime is a retina ready WordPress theme that is lauded for its blissful features and worthy design. Developed at the top of the Twitter Bootstrap platform, this premium theme features a responsive and animated layout. Its clean design comes complete with an easy to use drag and drop page builder that makes theme customization a breeze. It is translation ready and offers over 600 fonts, unlimited color options to choose a desired typeface and hue for your website.
---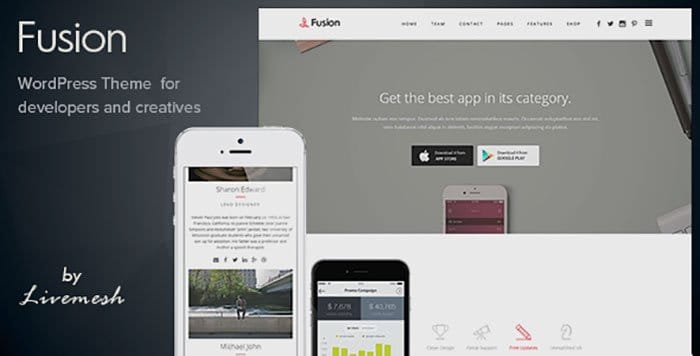 The fully responsive and updated design of this theme is tailor-made to efficiently cater to the needs of app developers. It can create an innovative look and feel of a WP site, while optimizing it for SEO and making it translation ready. You can personalize the appearance of your site by choosing a suitable color and font, as it supports unlimited colors and Google fonts. It also offers numerous retina-ready icons, six custom post types, custom sidebars, and so forth.
---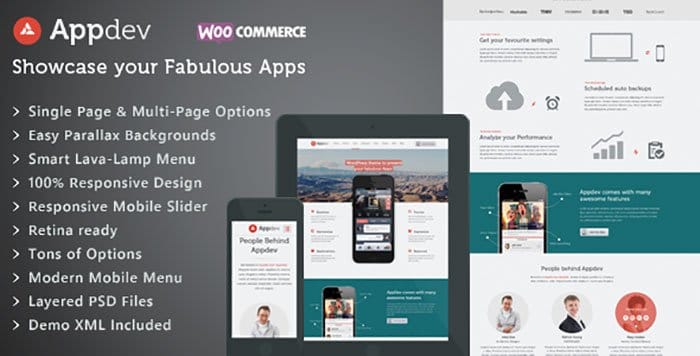 Appdev is an exquisitely designed one page and multi page theme that make a viable choice as an application showcase theme. It boasts a clean and minimalist design that is developed in a modular framework. It runs smoothly over all devices and supports easy parallax backgrounds. This retina ready theme offers various other remarkable features that help one to make his website a launchpad for mobile applications.
---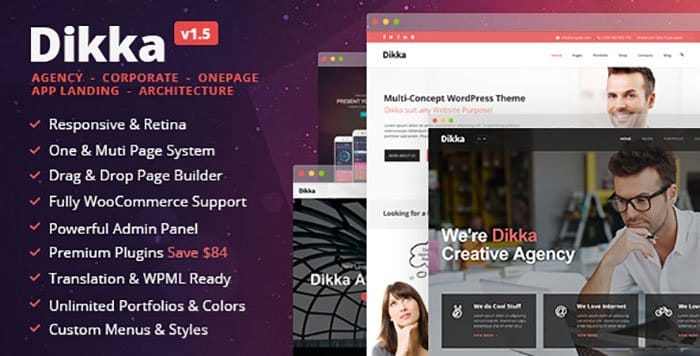 Dikka is yet another excellent multipurpose theme that makes developing a site to promote your application a breeze. With this theme, you can aesthetically design the landing page of your application. This responsive theme is loaded with a plethora of resourceful features and functions. You can tailor it as per your taste and requirements by using the available options.
---
Whether you deal with Android applications or iOS applications, CleanApp showcases applications in a really effective and efficient manner. It is designed in a way to make your apps appear more stunning and impressive, to grab viewers' attention. With this theme, you can display every info related to your app, including its blissful features, snapshots, video guide, client testimonials, and sales pitches to impress your viewers. This will certainly help you rivet them and encourage them to download your app. The theme also allows you to optimize its UX and facilitate your visitors to directly download the application.
---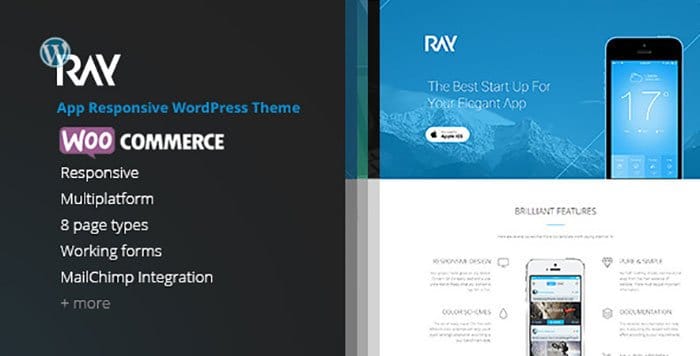 Ray is a splendid theme that is designed to create a meaningful and impressive UI. It not only makes your web content legible and comprehensive, but its minimal design miraculously takes your viewers' attention to the details of your showcased applications. You may choose to use it for adorning your mobile application's landing page, and make your applications appear more captivating and resourceful.
---
Arigato is a brilliant mobile-optimized theme that features a custom mobile layout, specifically designed to support the promotion of Android and iOS applications. It supports more than 200 shortcodes with which you can proficiently manipulate your home page, integrate quotes, multimedia galleries, contact forms, custom layouts, Google maps and so forth.
---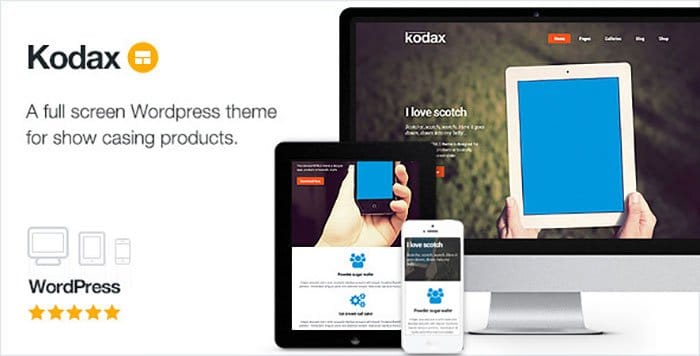 Kodax is a fantastic theme that offers a design to beautifully showcase items within a full screen slider. This multipurpose WordPress theme not only makes a perfect choice for displaying applications and advertising them, but it is also preferred for portfolios, blogs, corporate websites and personal sites. Its minimalist and sharp design amazingly drags the viewers' attention straight into the web content and displayed images.
---
Gizzly is a fabulous WordPress theme that features an Apps Showcase module ideal for advertising applications. Its responsive layout ensures its smooth and seamless performance across a range of mobile devices. It is jam-packed with various useful features, including portfolio module, Apps Dock Slider, 179 icons, multiple language support, custom widgets, numerous templates, and so forth. Moreover, it allows you to easily personalize your website appearance through its intuitive admin panel.
Conclusion
The prolific appearance of your website can do wonders for your business. And the range of WordPress themes available out there makes it absolutely convenient to create a suitable look and feel. If you are looking for impressive and well-designed themes to enhance the appearance of your site to promote iOS and Android mobile applications, you may choose a suitable theme from the aforementioned list. It includes a list of premium WP themes that are absolutely worth their price.