How to Bulk Installing WordPress Plugins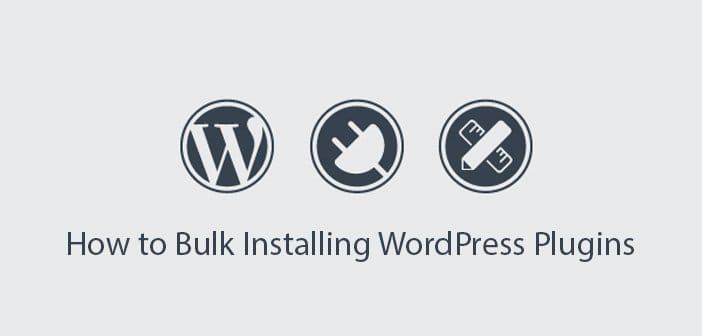 If you are a Web Designer, Familiar with WordPress, or someone who builds self hosted WordPress, I am sure you would agree with that using WordPress to build a own website can be a very time consuming process. Mainly when you have more then one plugins to be installed it take to much time.
The fact is when you have in mind exactly which types of plugins you wants, you have to install each & every one individually which is the very time consuming process and no one likes doing. So in this article i will show you some WordPress Hack that helps you to cut down your time for bulk installing WordPress plugins.
Before starting, you have installed WP Install Profiles plugin in your website.
Bulk Installing Plugin is able to save your important time to setting up new websites by automatically downloading groups of plugins at once. It allows users to define groups of plugins, called profiles.
How to Use or Set up WP Install Profiles
After, download and install the WP Install Profiles Plugin, you have to activate it, ant go to the plugin's Setting page. There you will find a screen that i'll shows you below:
Now list-out all the plugins that you want to install for your site. To choose the plugins you'll need to go to the WordPress Plugin Directory. Now look up the name of desired plugins that you want, and then copy the whole name (including '-', '/' and all) of the plugin that you'll find in its URL. Like:

Then, paste it to the "Install These Plugins" section that located in Setting area of WP Install Profile Plugin. Note, copy and paste all the plugins name that you would like to install. Be sure one name per line.
At finally, give your list a name and click on the green "Download Plugins And Save Profile" button, and then wait for things to download. After that, all your desired plugins will be downloaded on to your website.
Final Notes on the WPIP Plugin:
You can only download plugins that are available from WordPress.org plugin directory and not from any other external websites. To use the profile in the future, you will just need to download the plugin on your website and then enter username in settings area.
If you have any query or You have a some think more to say? Just Comment below.