Divi 2.4 – The Biggest Upgrade in Divi's History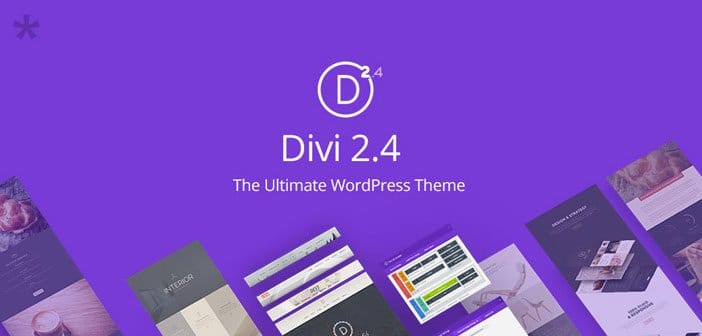 The biggest update from the developers of ElegantThemes for the Divi theme, newest version 2.4 has been released with a tons of amazing features, enhancements and improvements. Divi is the most advanced and ultimate WordPress themes in the market. This updates include over 1,000 new module design settings and theme powerful customizer controls, as well as an all-new fluid grid and amazing set of flexible modules, that are more versatile and easy to customize than ever.
You can view Divi 2.4 launch here.
What's New in Divi WordPress Theme?
Divi 2.4 comes with the Divi Builder are even more powerful when you consider that the Divi Builder has now been extended to all post types. The builder is no longer limited to pages, it means you are free to use the builder to create unlimited beautiful blog posts too!
New Global Settings & 100% Fluid Grid
The backbone of Divi 2.4 is its all new fluid grid that are more flexible than ever. Which allowed you to add some great new settings to the Customizer, such as define content widths, column spacing, menu heights, font style, layout settings, menu widths and much more.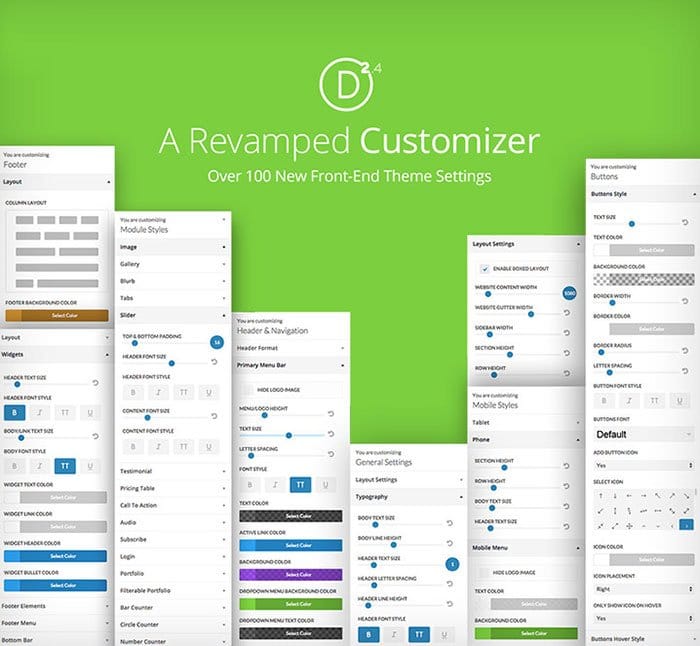 Divi 2.4 comes with these features including:
General theme settings
Change site content width
Theme gutter widths
Adjust Sidebar width
Body text styles
Control section and row padding
Header text styles
Choose Your Content Width
Now you can easily customized the width of any Divi website to max-width of your choosing, making it fully prepared for the future of super high resolution displays.
New Navigation options
There are limitless ways to combine menu colors, text styles, fonts, and layout options to create your own and unique headers that were never possible before. You can control Show/hide logo on scroll, Logo height, Dropdown menu background color, text color, Fixed navigation and much more.
Divi Post Builder
Most impressive features of the Divi 2.4 Theme is the powerful "Post Builder" feature. I personally like this feature. Now Divi 2.4 will fire on blog posts! Yes.! There is an options to show/hide page title/meta/featured image in addition to page builder content.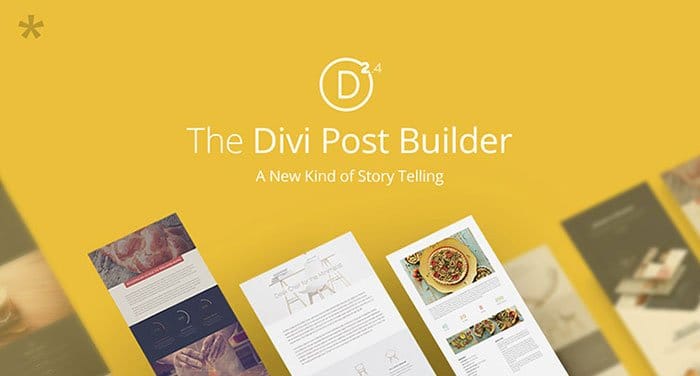 Managing Your Global Library Items
Once a global item has been added to your library, You can easily modified by editing the module within the Divi Builder, or by editing the item from within the Divi Library. Also you can filter by type, such as Module, Row, Section & Layout, as well as by Global/Not Global.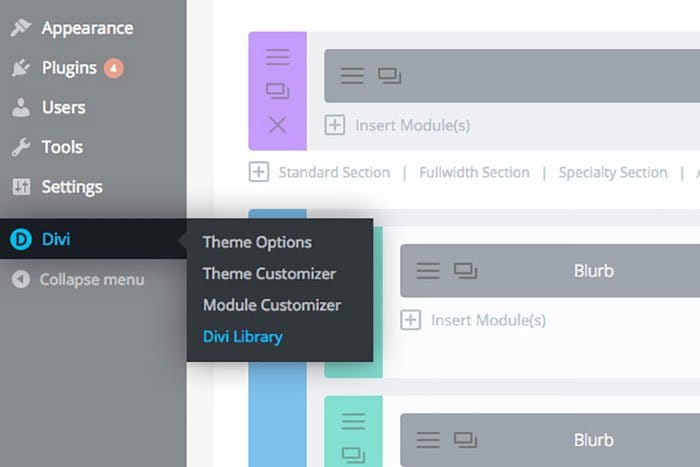 Fullscreen Header Module
Divi 2.4 comes with all new header style and layouts, there is 24 unique layouts that you can choose from. It include title, logo, subtitle, header image, text content, background video / image, color overlay, parallax background, and 2 different call to action buttons.
24 Layout Possibilities
Now you can create your own great looking layout with different combinations of content and image placement, there are 20+ different layouts you can create that are all completely responsive. Also choose not to enable fullscreen mode and the header will take on the natural height of its content.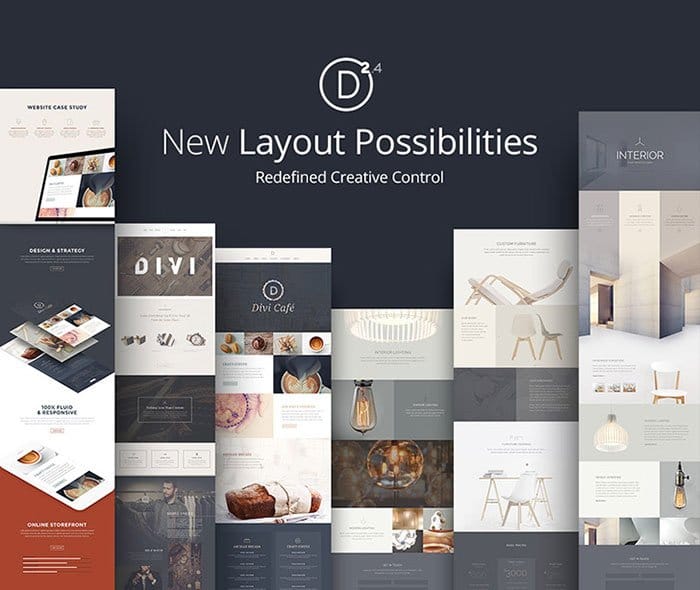 ---
Live Website Demo
Click below link to see a live demo of Divi 2.4 theme that illustrates how you can take advantage of the Fullscreen Header Module to give your visitors a stunning greeting to your page.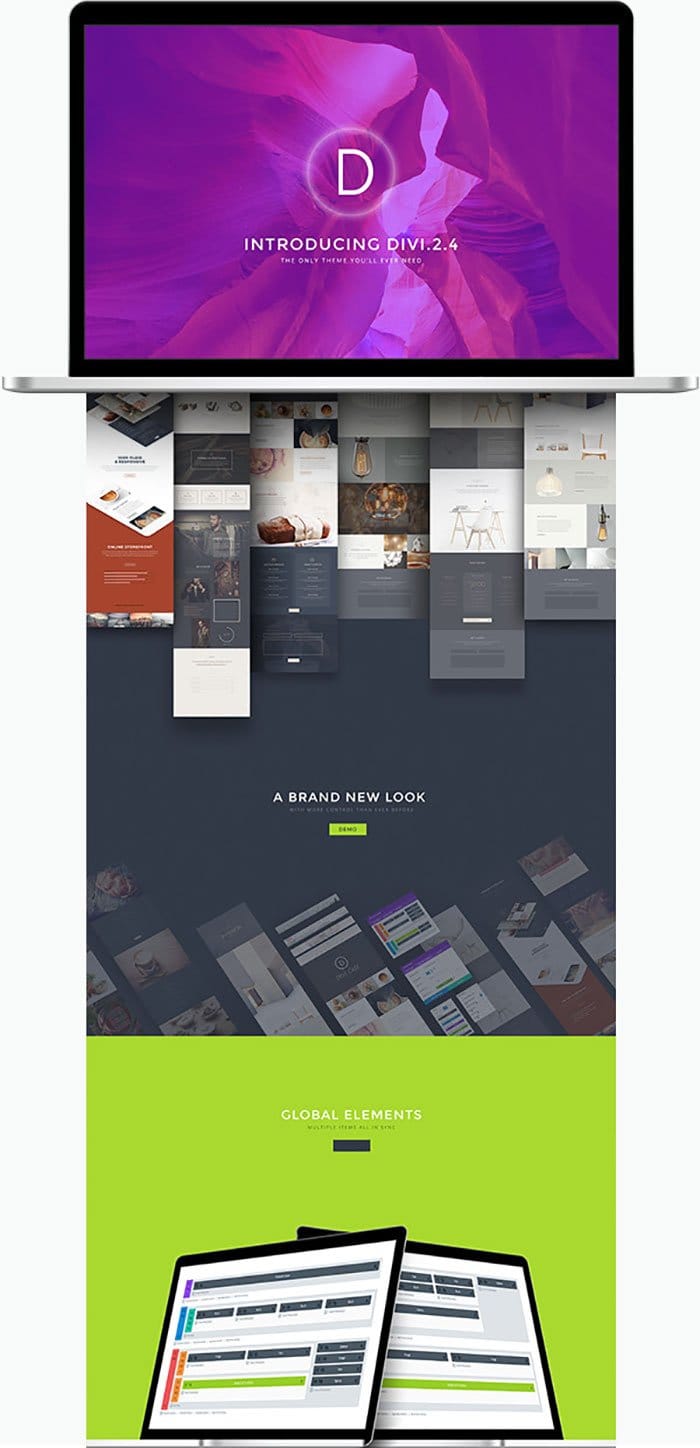 Pricing :
Get Access To Entire Collection Of ElegantThemes 87 Beautiful Themes For The Price Of One with 30 Day Money Back Guarantee. For Personal Use :- $69 ( Per Year ) For Developer Use :- $89 ( Per Year ) For LifeTime Access :- $249 ( Per Year )