How to Fix Broken Links on WordPress Sites
How you feel when your visitors click on a link and they can get "404 page not found error"? It makes bad user experience and also it makes big impact on your website's SEO. Basically it happen, when your linked website changed to new domain name. So today in this article, we will show you, how to fix broken links in your WordPress websites to improve user experience.
Luckily, we have excellent Broken Link Checker plugin. This plugin helps you check, organize and monitor your broken backlink. It continuously detects all the broken links to your website and archives them. If you want, you can be also informed by email as soon as a new broken link is detected.
Before starting you need to install and activate these plugin to your website. After installing the plugin go to Settings » Link Checker. The plugin will check for broken links on your website in the background. It depends on how much content you have on your website. Once it is done, it will shows all the links with total number of broken links that are found on the page.
Settings of Broken Link Manager
Broken Link Manager is extremely easy to use and excellent plugin, you can get it from the WordPress plugin directory and install it on your website. The installation process is same as other plugin.
Plugin packed with a feature rich dashboard to manage all the broken backlinks, it offers you all the link details at a glance to help you manage those further.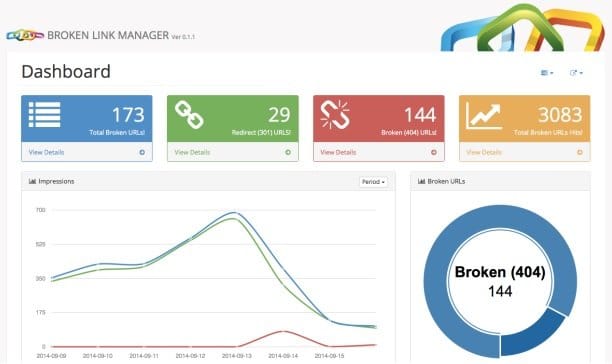 In the broken URL tab you can get all the option to fix URL as you want and display redirect URls with number of hits as well as an option to manage them anytime.
Settings page is another main section of this plugin, in which you can set-up for the email notification where you want to send the broken link details. Also, you can set the default URL for redirecting the broken links in the settings page. Once you are done fixing broken links, you may also disable the plugin because of no more requirement.
Final Words
We hope you found something new and useful in this article to fixing broken links on your website. We highly recommend you to use this plugin once every 3 months for regular cleanup.